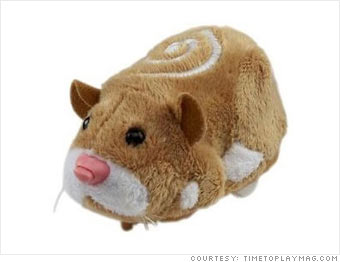 Good Afternoon, Zhu Zhu Lovers!
Unfortunately, I am having to pop in on this Sunday with some not-so-happy information.
The Good Guide report
claims that some of the hottest toys of the season contain unsafe levels of toxic elements. One such claim states that the Mr. Squiggles Zhu Zhu Pet™ contains unsafe levels of antimony and tin.

PLEASE BE ADVISED, CEPIA STATES THIS IS UNTRUE.
I was contacted by the good people at Cepia LLC. to spread the information to my blog-readers, as well as my Facebook and Twitter followers. Those of you on the Zhu Zhu Pets™ email newsletter list will also notice you received an email, as well. Especially with the popularity of the Zhu Zhu Pets™ this season, and the fact that millions of them are already under Christmas trees in waiting, it is important to get the facts out to potentially worried parents.
Zhu Zhu Pets™ products are submitted to vigorous testing above and beyond industry standards, as stated in the press release. As quoted per CEO/founder Russell Hornsby,
"We are contacting the Good Guide people at this moment to share with them all of our Mr. Squiggles and Zhu Zhu Pet testing data so we can get to the bottom of how their report was founded," Russ Hornsby said. "We want to assure everyone already enjoying Mr. Squiggles or other Zhu Zhu Pets, and those planning to purchase Mr. Squiggles or another Zhu Zhu Pet this holiday season, that the toy is 100 percent safe and in compliance with all U.S. and European toy safety standards. I have been in the toy industry for more than 35 years, and being a father of children myself, I would never allow any substandard or unsafe product to hit the shelves. That's why we always test to not only meet but also exceed safety standards."