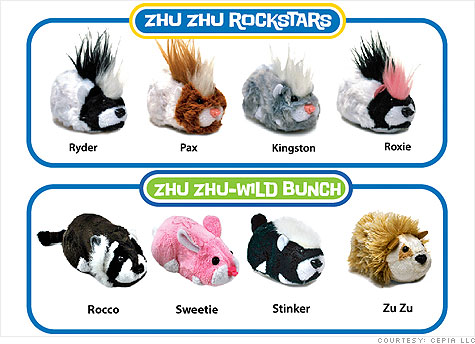 Having a good weekend, Zhu Zhu Fans?
I just came across an AMAZING article/video on
CNN's website.
With the highly anticipated "Toy Fair 2010" in New York next weekend approaching, Cepia gives out this preview of the next generation of Zhu Zhu Pets™ to be released in the coming year!
"Among the new Zhu Zhus is a line of four hamsters called Rockstars names "Pax," "Kingston," "Rider" and "Roxie." The names are inspired by the children of celebrities, including Angelina Jolie and Gwen Stefani. "Rockstars are the first long-haired hamsters with attitude," said Katz. Although the hamsters don't interact with each other, Katz said a smart chip in each toy gives it its own unique personality.
Katz said the new "Wild Bunch" collection extends the brand beyond hamsters. "There's a skunk, hedgehog, raccoon and a bunny," he said. "The appeal of this new collection is that these are animals that every child wants to have but parents won't let them have it," said Katz.
There's also a much-anticipated Kung Zu line of fighter hamsters geared primarily for boys aged 8 to 12.
Cepia will introduce 40 new Zhu Zhu characters in total this year, launching a new line every six weeks, said Katz."
Watch the video clip for great info and awesome sneak peeks of the newbies in action!
☺☺☺
With the amount and variety of ZZPs to come out, especially with newbies being released every 6 weeks, there will be a lot to pick and choose from on the market. Up to this time, it has been feasible to realistically "collect them all!". I think now it will be a matter of choosing the ones that really appeal to the individual kid(s) and that they really want in their collection. Let's face it... of course they will WANT them all, but a house and bank account are only so big ☺
From my past experience, I figure this is the point where some of the newbies may be in higher demand. Before Christmas, people just really wanted to get any or all of the "series 1" ZZPs. When we were surprised with "series 2" shortly before Christmas, it seemed that people had their specific favorite they REALLY hoped to be able to track down. Jilly was the hot commodity at that time, though I knew plenty of people who were Scoodles, Winkie, and Nugget-lovers. It will be exciting to see what new items pop up and when!
Though I wish they would have shown some of the new accessories in action in the video clip, I will certainly keep my eye open for any other news, photos, or videos to share here with you!